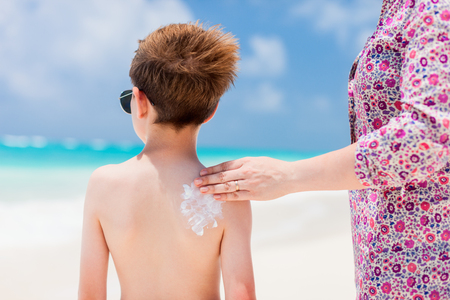 Summer is almost here, bringing pool parties, barbecues and lots of fun in the sun. However, summer also brings sunburns, bug bites and other safety hazards that your family can avoid with some preparation and know-how.
Read on to discover some handy summer safety tips for children:
Protect kids from the sun
It can be tough to remember to apply sunscreen 30 minutes before going outdoors, but it's important to get into the habit. And yes, you have to apply sunscreen on cloudy days, too! UVA rays can penetrate clouds and cause sun damage.
Avoid heat exhaustion
Playing outdoors is fun, but there can be too much of a good thing. Know the symptoms of heat exhaustion: thirst, fatigue and muscle cramps. If your child starts to feel these symptoms, spray them down with cool water and apply ice packs to the armpit or groin area.
Drink plenty of water
Especially when they're playing sports, kids should take water breaks every 15 minutes or so.
Be safe in the pool
Child-sized life vests are safer than water wings. Make sure that you're within arm's reach of any children who have not yet taken swimming and water safety lessons. It's a good idea to know CPR techniques as well, in case of an emergency.
Choose bug repellents wisely
The most effective bug repellents contain DEET, but make sure the product you choose has a concentration of 30 percent or less.
At the Children's Enchanted Learning Center, we prioritize safety, learning and fun for our kids. Give us a call today at 281-991-3999 to book a tour of our facility, and discover why Pasadena, Texas, families love our early childhood programs!