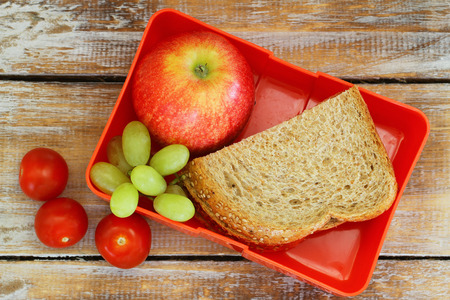 The 2018-19 school year is well underway. For a successful, healthy school year, make sure your children are eating nutritious lunches at school.
Here's how to pack a healthy school lunch:
Whole grains are your best friend
Want to know how to make kid-approved favorites like peanut butter and jelly sandwiches or macaroni and cheese healthier? Swap whole grains for the refined carbs. Make that sandwich on whole-wheat bread and use whole-grain noodles in the pasta to up the fiber and reduce the sugar.
Give fruits and veggies a starring role
Slice up a whole apple or pear and serve with peanut butter or serve veggies like cut-up bell peppers and cucumbers with hummus or tapenade. Use fun containers or cut the veggies into cute shapes to keep kids interested. Get your kids involved in making healthy choices by letting them pick out which fruits and veggies they'd like to bring.
Know what to avoid
Limit convenience foods, even those that appear healthy, like granola bars. These tend to be high in fat and sugar. Also, stay away from sugary drinks. Water is the best drink for your child's lunch, so make sure he or she has a reusable water bottle to take to school. For a special treat, put cucumber slices, citrus fruit or mint leaves in the water to give it some flavor!
At the Children's Enchanted Learning Center, keeping kids healthy is an important part of what we do. We provide a nutritious breakfast, a hot lunch and 3 snacks a day. Contact us to book a tour of our facility!